Twins outfielder Buxton flashing power again in 2021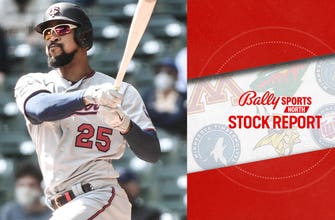 Byron Buxton, Twins outfielder (⬆️ UP)
As a Twins fan, there's nothing more exciting than when Buxton completely takes over a game. He's been doing that in 2021 … when healthy. In 12 plate appearances, Buck has four hits — one double and an American League-leading three home runs (tied with four other players, including his teammate Nelson Cruz). He's also collected a pair of walks, which matches his total BB count in 39 contests last season. The one concern with Buxton, of course, is staying healthy. He dealt with a non-COVID-related illness early in the week and missed Monday's win against the Tigers, but returned Tuesday and launched a 451-foot bomb at Comerica Park. Stay healthy, Buck.
D'Angelo Russell, Timberwolves guard (⬆️ UP)
D-Lo finally made his return! After missing 26 games while rehabbing from knee surgery, Russell was back in the Wolves rotation Monday night. In 24 minutes off the bench, Russell tallied a team-high 25 points on 7-of-19 shooting from the field and nailed four 3-pointers, guiding the Wolves to a 116-106 victory over Sacramento. Look, the offseason is quickly approaching. Minnesota still hasn't seen what a roster of Russell, rookie Anthony Edwards and Karl-Anthony Towns can look like on the floor together over a long stretch of games. That's the most important thing to watch over the final 21 contests of the season.
Minnesota Gophers men's basketball (⬇️ DOWN)
There's always a ton of turnover on a college basketball roster when there's a coaching change. But Ben Johnson, who was hired as the new men's basketball coach on March 23, will inherit a completely new roster in 2021. Center Liam Robbins, who led the Gophers in rebounding and finished second in scoring last season, entered the transfer portal this week, becoming the eighth Gophers player to do so. He joins Marcus Carr, Gabe Kalscheur, Jamal Mashburn Jr. and Tre Williams — all players who started a significant amount of games in 2020-21 — in the transfer portal, along with bench pieces Sam Freeman, Martice Mitchell and Jarvis Omersa. It'll be a very, very new era of Gophers basketball when the 2021-22 season tips off next fall.
Nelson Cruz, Twins designated hitter (⬆️ UP)
What more can we say about the Twins 40-year-old slugger? On Tuesday morning, we took a closer look at Cruz's two-homer performance in his first start of the season against Detroit, which included a grand slam and a solo dinger with a team-record exit velocity of 116.6 miles per hour. Later that afternoon, Cruz tallied another three hits, one of which being his third home run of the young 2021 campaign. He's not slowing down any time soon.
Luis Arraez, Twins infielder (⬆️ UP)
Even though he went 0-for-5 Tuesday, it's been tough for pitchers to keep Arraez off the base paths. Arraez collected seven hits and four walks and had an on-base percentage of .647 over the Twins' opening four games (17 plate appearances). Even though he doesn't have a full-time starting role at second base, which is now occupied by Jorge Polanco, it's clear manager Rocco Baldelli wants Arraez at the top of his lineup just about every day.
Jarrett Culver Timberwolves guard (⬇️ DOWN)
Culver has pretty much lost his role on the Wolves. Over his last nine games, the No. 6 pick of the 2019 draft is averaging 2.7 points and 0.8 rebounds in a mere 7.7 minutes per contest.