Starling, Witt Jr. go deep as Royals beat Dodgers 8-4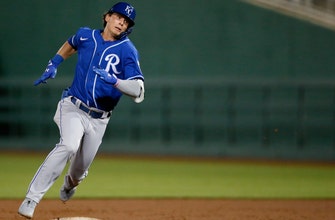 Bubba Starling hit a grand slam and Bobby Witt Jr. continued his torrid spring with a solo blast as the Kansas City Royals defeated the Los Angeles Dodgers 8-4 on Sunday night.
Starling gave the Royals a comfortable lead in top of the first inning, hitting a two-out, bases-loaded blast to make it 5-0. The Royals got on the board earlier in the inning when Witt Jr. scored from second base after the Dodgers made a series of errors. The 20-year-old infielder took a leadoff walk to start the game.
After Seager responded with a solo blast in the bottom of the first, Witt Jr. hit a home run to deep left field — his third of the spring — to give the Royals a 6-1 lead in the second. The 2019 first-rounder has a .333 batting average and a 1.046 OPS this spring — an extraordinary showing for a player who has just 37 games of professional experience, all in the Arizona Rookie League.
2017 first-rounder Nick Pratto added on to the Royals' lead in the ninth inning with an RBI double. Nick Loftin, the No. 32 overall pick in last year's draft, followed with a base hit that drove in Pratto. Cam Gallagher had two singles in the winning effort.
Brady Singer delivered a strong start for the Royals, striking out six while allowing one earned run on four hits and a walk over four innings. Ervin Santana followed Singer and threw two innings, giving up two earned runs on three hits.
Jake Brentz allowed one earned run in the seventh on a hit and a walk with two strikeouts. Jake Newberry and Josh Staumont held the defending World Series champs scoreless over the final two frames, with Newberry striking out two while yielding one hit in the eighth and Staumont punching out one over a perfect ninth.
The Royals are back in action on Monday afternoon as they host the San Francisco Giants. Danny Duffy is slated to make his third start of the spring.