Twins' big bats not enough against Red Sox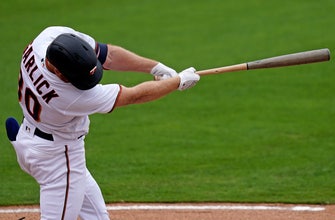 Bats boomed for Minnesota on Wednesday, but inconsistent pitching did the Twins no favors.
Minnesota dropped its second game in as many days in the Grapefruit League, losing 14-6 to the Boston Red Sox, despite home runs from catcher Mitch Garver, right fielder Kyle Garlick and designated hitter Nelson Cruz.
Twins starting pitcher José Berríos held up his end of the bargain, holding the Red Sox to just one hit in two innings pitched. The same cannot be said for the rest of Minnesota's bullpen.
Right-hander Alex Colomé gave up four runs off five hits in the top-half of the third inning, opening the floodgates for Boston's double-digit-run onslaught.
Minnesota's Glenn Sparkman relieved Colome at the top of the fourth, but by then the rout was on. Sparkman surrendered a two-run shot and walked three batters before making a mid-inning exit. His replacement, Chandler Shepherd, fared no better, allowing a trio of runs off four hits.
The Twins will look to reap greater rewards from their big bats on Thursday at 12:05 p.m. against the Tampa Bay Rays.