Berube: Tarasenko return could happen on current Blues road trip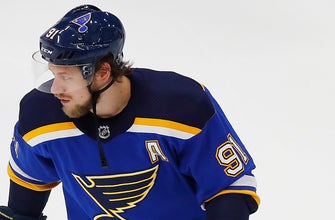 For a team frustratingly low on healthy forwards, the news Friday that Vladimir Tarasenko might return on the six-game road trip starting this weekend could not have been more welcome.
Tarasenko, who has been rehabilitating after his third shoulder surgery last August, played on a line with David Perron and Brayden Schenn at Blues practice Friday.
"I put him on a line today because he is getting close and I want him to go with a line and see how he looks and get some reps there," coach Craig Berube said after practice.
When asked if there is a chance he could play on the road trip, which starts Saturday at San Jose and concludes five games later on March 8, again against the Sharks, Berube said, "Yeah, there's a good chance."
SAY WHAT???!!! Tarasenko could return to action on this #stlblues road trip? Coach Craig Berube: "Yeah, there's a good chance." pic.twitter.com/916jXEBBiO

— FOX Sports Midwest (@FSMidwest) February 26, 2021
The Blues have seen numerous key players, particularly forwards, dropping like flies of late. Tyler Bozak, Robert Thomas, Jaden Schwartz and Ivan Barbashev, who had ankle surgery earlier this week, all have missed multiple games. None of them has an expected return date.
Which made the announcement about Tarasenko all the more surprising — and encouraging. Though Tarasenko had been skating with the team, no mention had been made of a possible return date. Now, it appears, it could happen while the Blues are out west playing the Sharks, Ducks and Kings.
"Definitely, he's itching and ready to go," Berube said. "It's been a while for him and a long road, so he's done a good job of conditioning and doing what he has to do."
The coach said Tarasenko will have to experience contact in practice, and handle it well, before he'll be deemed ready for a return to game action.
"That contact stuff is really important," Berube said, "because you can skate all you want and your conditioning will be good, but it's really the battling and the contact and all that stuff that wears on you when you've been out this long. … It'll be important that we do a lot of that stuff with him before he plays."