StaTuesday: Bucks' Giannis, Khris a special 30-point duo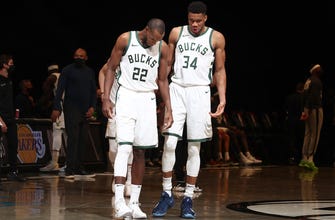 On Sunday, Milwaukee superstar Giannis Antetokounmpo recorded his 12th 30-point game of the season and 124th of his career.
In Antetokounmpo's first two NBA seasons he didn't have any 30-point games – his first came Nov. 19, 2015 in a loss at Cleveland when he had 33 – and the Bucks as a team had 14 combined (eight in 2013-14 and six in 2014-15).
In those 124 games in which Giannis netted 30 or more points, nine times a Bucks teammate also had 30+ points, including Sunday's game vs. Sacramento when Khris Middleton had 32.
Five other times in Antetokounmpo's tenure has Milwaukee had two 30-point scorers in a game.
The big difference in this past game against the Kings, a 128-115 Bucks win, was that Antetokounmpo and Middleton did a lot more than score. Yes, the pair combined for 70 points but also pulled down 26 rebounds and dished out 10 assists while also making 22 free throws in the process.
According to STATS, no pair of players has combined to put up those kind of numbers – 70+ points, 26+ rebounds, 10+ assists, 22+ free throws – since March 28, 1990, when a couple of Chicago Bulls teammates you might have heard of accomplished the feat – Michael Jordan and Scottie Pippen.
However, the Bucks' duo shared the spotlight more than the Bulls' future Hall of Famers. In a 117-113 win at Cleveland that night, Jordan had 69 points – 21 via free throws – with 18 boards and six assists. Pippen contributed seven points (one from the foul line), eight rebounds and seven assists.
The last time two 30-point scoring teammates had that kind of combined stat line? Well, STATS didn't make that have that information but maybe it will be the next time Giannis and Middleton each hit 30 again in the same contest.
Here's a list of all the games in which the Bucks have had two 30-point scorers since Antetokounmpo joined the team (stats listed as points-rebounds-assists):
Feb. 21, 2021 vs. SAC, W
Antetokounmpo 38-18-4
Middleton 32-8-6
Jan. 8, 2021 vs. UTA, L
Antetokounmpo 35-8-4
Middleton 31-10-4
Aug. 8, 2020 @ DAL, L (in ORL)
Antetokounmpo 34-13-1
Brook Lopez 34-7-0
Aug. 6, 2020 vs. MIA, W (in ORL)
Antetokounmpo 33-12-4
Middleton 33-6-8
Jan. 28, 2020 vs. WAS, W
Eric Bledsoe 34-6-10
Middleton 51-10-6
Jan. 11, 2020 @ POR, W
Antetokounmpo 32-17-6
Middleton 30-4-2
Nov. 14, 2019 vs. CHI, W
Antetokounmpo 38-16-4
Bledsoe 31-4-8
March 28, 2019 vs. LAC, W
Antetokounmpo 34-9-5
Middleton 30-10-5
Oct. 22, 2018 vs. NYK, W
Antetokounmpo 31-15-4
Middleton 30-7-7
April 1, 2018 @ DEN, L
Bledsoe 31-6-5
Jabari Parker 35-10-2
March 19, 2018 @CLE, L
Antetokounmpo 32-4-5
Middleton 30-5-2
Jan. 22, 2018 vs. PHO, W
Malcolm Brogdon 32-4-2
Middleton 35-6-3
Nov. 22, 2017 @ PHO
Bledsoe 30-6-7
Middleton 40-9-3
Feb. 29, 2016 vs. HOU, W
Middleton 30-3-4
Parker 36-4-5