StaTuesday: 2021 NL Central standings predictions for Brewers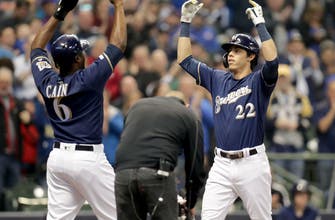 Believe it or not, it's baseball season.
Milwaukee Brewers pitchers and catchers report Thursday, Feb. 17 with the full roster due Feb. 23. The regular season – yes, a full 162 games (as of now) – begins April 1 when Milwaukee hosts Minnesota.
While there are still some players out on the free-agent market and we have to go through spring training and roster decisions, that doesn't mean we can't look forward to the season.
Milwaukee has made a few roster moves this offseason, most notably adding second baseman Kolten Wong and moving Keston Hiura to first base. The Brewers also welcome back center fielder Lorenzo Cain, who played in just a handful of games in 2020 before opting out.
With all that in mind, three publications have already put out their projected win totals for 2021. How do they think the Brewers, who finished 29-31 in the truncated 2020 season, will fare? Let's take a look.
Using its PECOTA system, BP has Milwaukee winning the National League Central Division with a winning percentage of .549, which comes out to a record of 89-73 (rounding out the decimals; it's actually 88.9-73.1).
The Brewers are given a 54.1% chance of winning the division. Chicago is next at 28.1%. Even with Nolan Arenado, St. Louis is given just an 11.0% chance to win the division and projects to an under-.500 record (.498 winning percentage).
Cincinnati and Pittsburgh round out the division. BP projects the Pirates as one of two 100-loss teams on the season, joining Colorado.
The PECOTA system has six teams with 90+ wins (listed in order): L.A. Dodgers, NY Yankees, San Diego, NY Mets, Houston and Minnesota.
The last time we had a full season in 2019, PECOTA predicted Milwaukee would win the NL Central with an 88-74 record. That season the Brewers finished 89-73 (St. Louis won the division and Chicago, which BP predicted to finish last, went 84-78, so not all was perfect).
The site's ZIPS projections are not kind to, well, the entire NL Central.
Milwaukee is predicted to finish 79-83.
Congratulations, Brewers, that puts you atop the NL Central.
Oof.
St. Louis is also given a 79-83 record, but Fangraphs has Milwaukee with a .488 winning percentage compared to .487 for the Cardinals. So, hey, a pennant race!
The Cubs (77-85, .476) and Reds (76-86, .469) aren't too far behind. The site projects Pittsburgh with baseball's worst record at 64-98 (.398).
Fangraphs only has four teams with 90+ wins – Dodgers, Yankees, Padres and Mets, so perhaps their win totals are a bit more conservative.
Milwaukee's projected NL Central championship run comes to end with USA Today, which used a six-person panel to determine its standings.
The Brewers are predicted to finish with an 83-79 record, well behind St. Louis (90-72) and just ahead of Chicago (82-80).
The panel is a little more bullish on Milwaukee than the projected record might indicate. In the NL Central capsule, it writes: "The Brewers love slow-playing free agency, and thus their projected 83 wins could get a bump with some endgame magic. As it stands, they should pitch and catch the ball exceptionally well."
Cincinnati is again fourth, at 79-83, while poor Pittsburgh is predicted to lose 105 games, again, worst in all of MLB (Baltimore joins them in the century-defeat club this time with 102).
What's left to say, other than "Play Ball!"