FOX Sports North announces modified plans for Hockey Day Minnesota 2021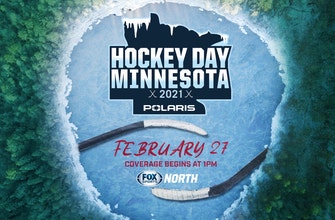 FOX Sports North, in conjunction with the Minnesota Wild, Thursday announced plans for a modified Hockey Day Minnesota (HDM) driven by Polaris, which will take place Feb. 27 starting at 1 p.m. As previously announced, the original January 2021 event in Mankato was postponed to 2022, due to COVID. But the annual tradition will still take place on television this year.
Highlighted by more than 10 hours of continuous hockey programming, the network will broadcast a variety of Hockey Day content, televise two Hockey Day Minnesota "Classic" (outdoor) games as well as the Minnesota Wild vs. L.A. Kings matchup from Xcel Energy Center during primetime. The day will conclude with the debut of a documentary looking back at the 20-year history of the Minnesota Wild, powered by Xcel Energy.
Hockey Day Minnesota programming will be anchored from a Hockey Day set located at the Guidant John Rose MN Oval in Roseville, Minn. Throughout the afternoon, the FOX Sports North team will introduce viewers to numerous special features and reports from across the State of Hockey.
The inaugural Matt Dumba Hockey Without Limits Camp will be held Feb. 27 at the Guidant John Rose MN OVAL as part of Hockey Day Minnesota 2021. The camp was created by Dumba to help provide more children the opportunity to play the great sport of hockey. Youth hockey players from The Herb Brooks Foundation, The Hendrickson Foundation and New Directions Youth Ministry will participate in the camp led by Minnesota Hockey coaches.
FOX Sports North's on-air talent team will be contributing throughout the day. Marney Gellner and Mark Parrish will host the Hockey Day set located at the John Rose Oval; while Audra Martin and Ryan Carter provide updates from a desk located at Xcel Energy Center in St. Paul. Anthony LaPanta and Wes Walz will take over broadcast duties in primetime as play-by-play and analyst for the Wild game, with Kevin Gorg reporting.
BROADCAST SCHEDULE
| | |
| --- | --- |
| TIME | PROGRAM |
| 1 p.m. | Hockey Day Minnesota – Live |
| 1:15 p.m. | HDM Classic: St. Paul Johnson at Lake of the Woods (2007; boys hockey) |
| 2:45 p.m. | Hockey Day Minnesota – Live |
| 3 p.m. | HDM Classic: UMD at St. Cloud State (2018; NCAA women's hockey) |
| 4:30 p.m. | Hockey Day Minnesota – Live |
| 6:30 p.m. | Wild Live |
| 7 p.m. | L.A. Kings at Minnesota Wild |
| 9:30 p.m. | Wild Live |
| 10 p.m. | Debut: Wild 20th anniversary documentary |
SPECIAL FEATURES
Joel Boyd: Meet the Minnesota Wild's team physician, the NHL's first black team physician.
Reliving the First Hockey Day: A look back at the first ever Hockey DayMinnesota from Baudette Bay.  FOX Sports North will catch up with players from the original Lake of the Woods team, fifteen years later.
Where Are They Now: Relive some of the most memorable Hockey Day Minnesota stories from over the years, and find out where the players and families are now.
Minnesota Hockey Essay Contest: An annual tradition that encourages players to express their thoughts on what makes youth hockey a positive environment. Hear from the winner of this year's special contest.
The hockey community is encouraged to join the HDM celebrations by using #HDM2021 and #ThinkOutside – photos will be incorporated into the broadcast throughout the day and select participants awarded prizes from Polaris.
The signature event will be televised regionally on FOX Sports North and via the FOX Sports GO App. Channel availability: www.getmyhometeams.com
Hockey Day Minnesota was originated in 2007 by the Minnesota Wild to celebrate the game that has made Minnesota the State of Hockey. It is produced in partnership with FOX Sports North, Minnesota Hockey and the respective local community that serves as host each year. Previous locations include Baudette Bay (2007, 2008), Phalen Park (2009), Hermantown (2010), Moorhead (2011), Minnetonka (2012), Grand Rapids (2013), Elk River (2014), Saint Paul (2015), Duluth, (2016) Stillwater, (2017) St. Cloud, (2018) Bemidji, (2019) and Minneapolis (2020). For more information, visit the Hockey Day Minnesota page.